Electronic enthusiasts
: As people's demand for vehicles is rapidly increasing, the frequency of traffic accidents is rising. The consideration of safety performance has become the first choice for car purchase. Data show that in 2012 China has become the world's largest automotive market. Due to China's special market conditions, China's automotive passive safety system market is gaining momentum, and the future potential of active safety applications is endless.
To seize the opportunities in the automotive safety market, STMicroelectronics MEMS devices and safety MCUs have endless potential to meet the strict requirements of automobiles for safety, stability and high precision. Automotive safety is now particularly popular with Active Advanced Driver Assistance Systems (ADAS), which has become the unanimous goal of global semiconductor manufacturers.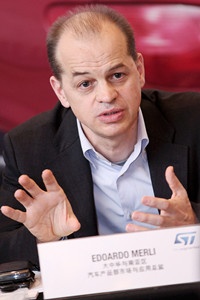 Edoardo Merli, Market Application Director, Automotive Products Division, STMicroelectronics Greater China and South Asia
MEMS sensors for vehicles, STMicroelectronics advances layer by layer
Talking about the development of MEMS in the automotive market, Edoardo Merli revealed: "STMicroelectronics plans to develop the automotive market in three different stages: it is currently the first stage and there are three products (two low-g accelerometers and a 3D gyroscope) , STMicroelectronics is still the world 's only manufacturer of 3-axis gyroscopes for vehicles) and put into mass production to generate revenue for the company. At this stage, we mainly solve non-security critical applications such as inertial navigation, anti-theft, telematics and Infotainment. In the second phase, the first product (auxiliary restraint system, also known as airbag) will begin mass production this year. In the third phase, STMicroelectronics will target active safety applications, such as vehicle dynamic control, stability control, electronic suspension, etc. Similar applications. "
Edoardo Merli said that the definition of ADAS is very broad, and different systems have different safety, stability and accuracy requirements. For example, the difference between active and passive ISA (Intelligent Vehicle Speed ​​Adaptation System) is that the former only prompts the driver that the current speed or acceleration does not meet the terrain conditions and speed limit regulations, while the latter can intervene and automatically correct the vehicle dynamic state. May affect the sensors used to detect the car's motion characteristics. However, in addition to the high reliability required in the automotive electronics field, the sensor also requires temperature stability, which can be achieved by the built-in precise offset and sensitivity compensation circuit. Many ADAS systems particularly need to be able to perform self-tests automatically in normal operating mode.
ADAS covers a wide range of applications and is a fast-growing market. STMicroelectronics is paying close attention to this market trend, giving full play to the unique advantages of MEMS sensors and safety MCUs to achieve the safety goals of automotive systems.
STMicroelectronics safety MCU meets growing demand for safety systems
Safety microcontrollers handle the growing demand for safety systems through advanced ASILD concepts: (1) provide access protection at all levels of the architecture; (2) the true ASILD concept relies on hardware methods; (3) provide the necessary hardware support to achieve dependence Applied ASILD concept. Edoardo Merli emphasized that STMicroelectronics has extensive experience: Leopard (ASILD fail-safe architecture) was defined by an independent organization in 2007 and obtained SIL3 certification. This is the first true ASILD architecture on the market and a reference benchmark for the development of new microcontrollers that conform to the ISO26262 standard.
In fact, the assumption that the system is allowed to perform erroneous actions is the basis of the safety principles of most ECUs (including airbags). Edoardo Merli said that the system design must detect these actions within the application's safe time so that the system can enter a fail-safe mode without destroying the power stage and actuators. In order to prevent the system from working abnormally, redundant acquisition must be used to ensure the safety of the calculation. To achieve this, a SIL3 MCU (multi-core microcontroller with lock protection enabled) with built-in dedicated safety logic must be selected.
Edoardo Merli emphasized that in order to ensure execution safety, equipment manufacturers must use SIL3 actuator design systems (for example, automatic minimum dead time insertion), and must have an accurate actuator monitor (thermal protection, current); the monitor function must be The microcontroller functions are the same (for example: Leopard architecture has a control flow watchdog, no external control flow watchdog is required). SDIL3 requires two processing channels, with separate functions and countermeasures. For memory, the countermeasure is an error correction mechanism, and for logic circuits, an error detection mechanism. Since error operations are needed, an error detection mechanism needs to be introduced for the logic.
Responding to the new challenges of safety standards and networked safety
The introduction of the new automotive safety standard ISO 26262 has brought both opportunities and challenges to semiconductor manufacturers. Edoardo Merli said that the opportunity mainly depends on whether innovation can minimize system costs while achieving the safety goals of every automotive system. The main challenge brought by this is the transition from the previous design method to the ISO26262 standard design method, realizing all the expected benefits in terms of security level and system cost. The main action of STMicroelectronics is to design and certify chipsets of different security levels in accordance with ISO26262 standards according to the specific needs of automotive semiconductors. This process will involve all product lines, including microcontrollers, supporting chips, power management, analog ICs and MEMS.
Edoardo Merli emphasized that in response to connected security, STMicroelectronics' series of automotive microcontrollers is an efficient solution to improve security, introducing access protection at all architectural levels: Core MPU, System MPU on Crossbars, IO Bridge MPU features , Peripheral ConfiguraTIon Registers ProtecTIon. From a chip perspective, STMicroelectronics can implement redundant communication modules and redundant communication protocols, while software solutions should be dominated by OEMs and major automotive manufacturers.
ST implements localization strategy to push the increase of automobile safety
ST's strategy is to cooperate with automotive electronics customers who are developing to functional safety, provide the latest product information to all customers who are concerned about the concept of functional safety, and cooperate with customers who are ready to define safety design to find a suitable IC that is cost-effective and achieve Solutions to relevant safety standards.
Edoardo Merli said that STMicroelectronics ranked third in the global automotive semiconductor market and ranked first in China. Its security semiconductor products account for nearly 30%, and it plans to continue to develop the Chinese market, and there are huge growth opportunities in China in the future.
Edoardo Merli revealed: In the future, STMicroelectronics will conduct market layout in accordance with application fields and primary needs. Recently, the main market is still dominated by passive safety. For this market, STMicroelectronics has launched a cost-effective and flexible airbag system solution, which has become the reference standard for low-end passenger cars. As for the active safety requirements, it is mainly based on mid- to high-end passenger cars, and STMicroelectronics has launched ABS and stability control ASILD compatible solutions for this purpose. For ADAS in the high-end market, STMicroelectronics provides camera-based driver assistance technology and mid-range and long-range radar detection technology. STMicroelectronics also cooperated with Mobileye to provide system solutions for frontal collision warning, pedestrian collision warning, heading monitoring warning, lane departure warning, intelligent high beam control with built-in support infrastructure and speed limit indicator. ST also provides all electronic solutions for high beams and smart headlights.
About Edoardo Merli
Edoardo Merli is currently the director of market applications for the Automotive Products Division of Greater China and South Asia at Arfa Semiconductor. He has held this position since January 2012. Merli joined STMicroelectronics in February 1998 as the head of system architecture for the fixed-line telecommunications department. In 2002, he founded and led the WLAN business unit, generating more than $ 100 million in revenue for the company, helping STMicroelectronics become a leading supplier of Wi-Fi solutions for mobile phones and mobile devices. In 2007, Merli served as the director of the Automotive Products Division, responsible for the RF Technology Capability Center and Connectivity Division, and then the Automotive Broadcast Division. Merli holds four patents and has published several papers. Edoardo Merli obtained an electronic engineer qualification from the University of Bologna in 1989.
This article is adapted from the May issue of "Automotive Special Issue"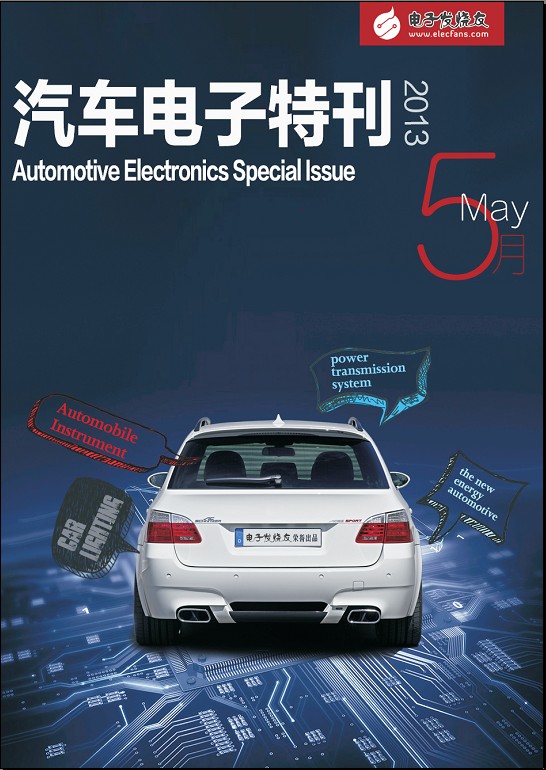 ——All rights reserved by Electronic Fans. Please indicate the source when reprinting!
4 Outlets EU Socket,EU Power Socket USB,EU Power Socket
Dongguan baiyou electronic co.,ltd , https://www.dgbaiyou.com