Shanghai, China, November 19, 2012-Audi AG and NXP Semiconductors (Nasdaq: NXPI) today announced at the 2012 Electronics Show that they have signed an agreement to establish an innovative strategic partnership. The partnership focuses on driving innovation speed and time-to-market in eight selected automotive electronics applications that cover NXP 's automotive industry such as NXP 's long-time industry-leading in-vehicle network and in-vehicle entertainment, as well as automotive Connected emerging technologies. These include vehicle-to-X communication, telematics, near field communication (NFC), and high-voltage control devices for electric vehicles.
Ricky Hudi, chief executive engineer of Audi Electric / Electronics, said: "This partnership is another milestone in our Progressive Semiconductor Project (PSCP), further strengthening the mutual trust that the two companies have built over the years. In addition, NXP provides automotive interconnection The strategy of the electronic interface is very sensible and also points out the direction for Audi's future plans. "
According to expert estimates, 90% of all innovations in automobiles are realized by electronic products, of which semiconductors play an important role. At the same time, continuously improving the connection between automobiles and the outside world requires related NFC, wireless reception, radar and telematics. Business and technical support. This collaboration between Audi and NXP confirms the importance of semiconductor technology in the introduction of connected technologies and other new functions in automobiles. By introducing these technologies, it focuses on improving driving safety and comfort, saving costs, and improving energy efficiency.
Kurt Sievers, general manager of NXP 's automotive business, said: "It 's a great honor to be Audi 's innovative strategic partner in the premium car market. This is the industry 's outstanding customer support, best quality solutions and continuous innovation (this is particularly important ) A strong proof of recognition. Our solid cooperation with Audi has consolidated NXP 's focus on automotive interconnection technology in line with the industry 's development direction. "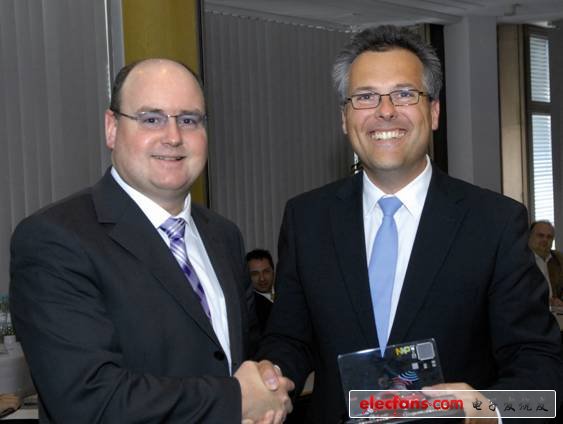 The NXP-Audi partnership is part of Audi 's Progressive Semiconductor Project (PSCP), a comprehensive semiconductor strategy aimed at enhancing the role and participation of semiconductor companies in German automaker processes. Its name is "Model of Innovation and Speed", signed in May 2012 by Audi's Ricky Hudi and NXP's Kurt Sievers.
About NXP Semiconductors
NXP Semiconductors NV (Nasdaq: NXPI) provides high-performance mixed signals and standard product solutions with its leading expertise in radio frequency, analog, power management, interface, security, and digital processing. These innovative products and solutions can be widely used in automotive, smart identification, wireless infrastructure, lighting, industrial, mobile, consumer and computing fields. The company has business execution agencies in more than 25 countries around the world. In 2011, the company's turnover reached 4.2 billion US dollars. For more information about NXP, please visit the company's official website for inquiries.
For Sony:
For Xperia Z4V, For Xperia Z3V
For Google:
For Nexus 4, For Nexus 5, For Nexus 6, For Nexus 7


For MOTORALA:
For Moto Droid Turbo, For Moto Droid Turbo 2, For Moto Droid 5

For NOKIA:
For Lumia 920, For Lumia 928, For Nokia Lumia 93, For Lumia 950, For Lumia 950 XL, For Lumia 1020, For Nokia Lumia 1050, For Nokia Lumia 822, For Nokia Lumia 735

For HTC:
For HTC ONE MAX T6, For HTC Incredible 4G, For HTC ONE mini 2, For HTC Droid DNA

For LG:
For LG Nexus 4, For LG Nexus 5, For LG G Pro, For LG D1L, For LG LTE2

For Iphone:
For Iphone8/X/XR/XS Max

Compabile Models:

For Samsung:
For Galaxy S6, For Galaxy S6 Edge, For Galaxy S6 Edge+,
For Galaxy S6 Active, For Galaxy S6 Duos, For Galaxy Note Edge,
For Galaxy S7, For Galaxy S7 Edge, For Galaxy Note 5
For Galaxy S8, For Galaxy S8 Plus, For Galaxy Note 8

For Galaxy S9,For Galaxy S9 Plus

For Others:
For YotaPhone 2, For Elephone P9000
Guangzhou HangDeng Tech Co. Ltd , https://www.hangdengtech.com