The term "artificial intelligence" first appeared in the "Thirteenth Five-Year Plan". In the "Science and Technology Innovation-2030 Project", smart manufacturing and robotics became one of the major projects; nurturing artificial intelligence, intelligent hardware, new display, and mobile intelligent terminals. All were included in the strategic emerging industry development actions. At present, China is implementing the "Made in China 2025" and "Internet +" action program, will raise the development of artificial intelligence to the national strategic level, clear the artificial intelligence as one of the 11 key development areas for the formation of a new industry model, and proposed Specific support measures to clear up the unreasonable system that hinders development. The transformation and upgrading of the robot industry is imperative. How will Chinese robots respond to future industrial changes? After losing the first round of advancement in the robotics industry, it is even more important to advance the robot 2.0 era. China's ability to innovate in the robotics industry lags far behind those in Japan, the United States, and Germany, and the current efforts in the robotics industry also have irrational directions. The single mode of development, lack of strategic and overall, did not see the development direction of the robot industry itself transformation and upgrading.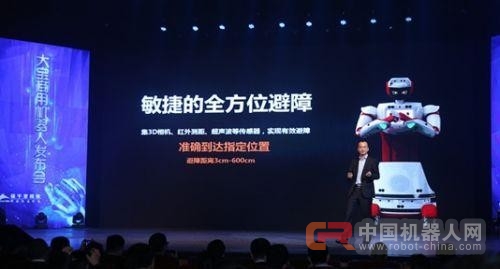 At the same time, robots are only part of smart manufacturing. The development trend of the robotics industry will be combined with smart manufacturing and combined with market demand. It needs to continuously deepen the integration of many advanced technologies such as big data, cloud computing, and artificial intelligence. Going out of the "small and scattered" development mistakes, we must combine the "robot substitution" with the cultivation of the robotics industry in order to truly send out the Chinese sound of the robot 2.0 era. In 2012, when the Internet of Things was in its infancy, Baoqianli initially proposed this concept within the company—a strategic layout around smart hardware. In 2013, after conducting in-depth research on the smart hardware industry, Bao Qianli was keen to find that the smart hardware industry will release a new market of nearly one trillion yuan. Based on this judgment, Bao Qianli officially proposed the concept and strategy of connecting smart hardware to the Internet, and began to extend from functional hardware to intelligent hardware in terms of product line layout. In 2014, during the process of deploying around smart hardware, Bao Qianli realized that simply connecting smart hardware to the Internet did not satisfy the needs of users, but also had better content and services. At this point, Bao Qianli's smart Internet strategy has taken shape. In 2015, Bao Qianli formally released the smart Internet strategy with "Smart Hardware + Internet + New Media" as the core, providing Baiyin Baiye with the overall solution of "Intelligent Hardware + Internet + Segmented Business Model". At the same time, it began to deploy four major segments of cross-border smart phones, smart robots, intelligent cloud screens, and intelligent network-linked vehicles in phases, and entered emerging fields such as artificial intelligence and smart driving. Commercialization is king, and the development trend of robotics With the development of science and technology, lowering costs and improving efficiency have become the most important development core of enterprises. At present, the high labor cost and the situation that has been increasing year by year has caused many companies to become overwhelmed. Reasonable and effective control of labor costs has become just what companies need. The emergence of commercial robots effectively meets the need for companies to reduce labor costs. At present, the replacement of manpower by commercial robots into hotels, restaurants, and other related industries has become a reality. With the development and application of artificial intelligence, the maturity and perfection of the industrial chain, and the further development of the market, the development prospects of commercial service robots are promising. The industry expects that commercial robots in the future can create a trillion market. The use scenarios of commercial robots basically fall into two categories. The first category is that companies or physical stores use a robot to attract people and promote brands. The second category is just needed, that is, there is a need to effectively replace part of the labor force even at a certain level. These fields have completely replaced manpower, which is also the future direction of commercial robots. From the number of exhibitors at the World Robotics Conference last year, it can also be seen that more than two-thirds of the companies in the consumer service robots' showrooms are commercial robots for TOB, and there are complete products for security, restaurants, banks, and warehouses. And solutions. In the fierce competition of many domestic companies, with precision optical-electromechanical imaging + bionic intelligence algorithm as the core advantage, the deep protection of the high-end video field has always been concerned about the protection of thousands of miles. On January 6, Baoqianli held a "2017 Dabao Commercial Robot Launch Conference" and relaunched a commercial Dabao robot. At the press conference, Baoli provided a systematic introduction to the application prospects, market layout, and channel expansion of Dabao Robot. At the same time, through the form of stage plays, the demo features, features, and application scenarios of the Dabao Merchant Robot were demonstrated live and highly appreciated by guests and industry experts. Some entrepreneurs from restaurants, hotels, etc., after watching the Dabao conference, said that Dabao robots will provide enterprises with a one-stop "Internet + robot + new media" solution that will rapidly expand through the urban channel partner model. Dabao robots implanted in consumer scenarios, which will reduce operating costs and increase efficiency for companies. And for different companies to customize personalized operating program, continue to drain for the business, and ultimately create a set of consumer, entertainment, intelligent services in one of the IP ecosystem. Intelligent Application and Enhancing Core Competence The reporter learned from the press conference of Dabao Commercial Robot Co., Ltd. that it uses artificial intelligence technology and integrates many practical functions to allow users to experience the charm of cutting-edge technology while enjoying intelligent services. From the point of view of the live demonstration robots, the Treasure Commercial Robot's shoulders, elbows, and arms all adopt human-like joint designs that are capable of performing more elaborate and complex tasks. Its lower body is composed of a circular base and its diameter is relatively large. The base is equipped with a wide and thick McLam Omnidirectional wheel. With the cooperation of a large torque motor, its movement and load capacity will reach 100 kilograms. In addition, it also enables multiple operating systems to run at the same time, with super-computing capabilities and speeds, and is suitable for efficient operation in environments with limited transit space and narrow work channels. Previously, the success of the super platform-type robot Bao Qian Li - made Xiao Bao once popular! Ding Xiaobao has large screens, laser projection of home theater, remote control, language interaction, and ROS platforms. It not only integrates home butlers, security guards, caring secretaries, family escorts, children's education, entertainment, and other powerful functions. It can enter into personal daily work scenes and provide one-stop smart and noble quality of life for high-end families. In addition, DaLing robots can also be used as smart hardware strong connectors to penetrate entities such as hotels, restaurants, real estate, mother and baby, beauty industry, and apparel, as well as hospitals, finance, airports, high-speed rail and other public places. Data, sharing resources, effectively assisting Baiyue Baiye to build a direct terminal platform for smart products of famous brands. In the 2017 strategic plan, Dabao robots will be more task-intensive. It will enrich the product line of platform-based smart hardware and provide diversified robotic products and services for the market. It lays the foundation for multiple fields of application and provides Baiyin Baiye with the overall solution of "Intelligent Hardware + Internet + Business Model in Segmented Areas".
Industrial computers and commercial computers have always been inextricably linked. They each have their own application areas, but they affect each other and promote each other, reflecting the progress of science and technology. At present, it is better to do Sanqi Tuoda in China and Advantech in Taiwan. Advantech has a higher reputation, but its price is higher. The industrial computer site can be embedded in the machine, cabinet or placed on the operation table, and it can be used as a man-machine display interface. It is used in telecommunications, electric power, multimedia, national defense, automation equipment, manufacturing and other fields. It is used as a man-machine interface, thin client, PLC and POS communication and control terminals. Digital hospitals are used as bedside service terminals and outpatient terminals to improve hospital service and management. Banks, shopping malls, hotels, railway stations, buses, subway stations, parks and other public places as media (advertisement) players or inquiry terminals. High-end residential quarters are used as home service terminals to implement intercom, message, cost inquiry, product order, home appliance management, temperature and humidity control, etc.
industrial pc,industrial computer,industrial touch computer,industrial computer waterproof,Fanless Industrial Computer,Panel Mount Computer
Shenzhen Hengstar Technology Co., Ltd. , https://www.angeltondal.com