First, system overview
With the development of urban construction, traditional methods of overhauling underground pipelines are difficult to adapt. The management of water resources, drainage, natural gas, and power lines all require the use of more advanced devices. In addition to the use of traditional services, it also needs to incorporate the application of geographic information systems. The maintenance of the drainage system involves a series of complex tasks that require highly qualified staff and sophisticated technology. If these conditions are not available, leakage of drainage pipes may lead to contamination of groundwater and soil, thereby damaging the human body and the natural environment. On the other hand, if a defective pipeline is used to transport groundwater, the source of pollution is more likely to infiltrate the water system. Therefore, the wastewater must first be treated in a wastewater treatment plant.
In order to maintain normal operation, it is necessary to continue to clean and maintain the drainage system and regularly supervise the conditions of the pipelines, thereby discovering and solving problems such as pipe damage, groundwater intrusion, waste water discharge, plant roots, and debris intrusion. Today, the management, maintenance and quality control of a complex infrastructure such as a large urban drainage network system cannot be achieved without relying on technological equipment.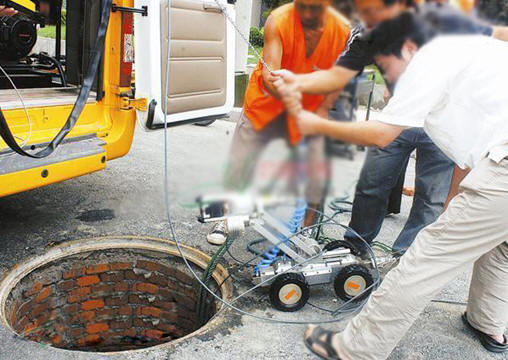 In addition to the high quality of the cleaning and discharge operations of the water resources system, more and more attention is paid to high efficiency, and a robust and portable computer can precisely meet this demand.
Second, the system requirements, br>
1. There are many pipeline entrances, which require the equipment to be easily carried;
2. It is possible to fall accidentally during operation and the equipment needs to resist falling and falling;
3, the outdoor operating environment is changeable, need to resist the invasion of rain, sand and dust;
4, keyboard night vision support underground operation.
5, long life
Third, the system description
The modern underground pipeline inspection system is composed of reinforced notebooks and inspection robots connected by cables. The whole set of equipment can move along with the inspection vehicles at each entrance. The signals and images collected by the maintenance equipment are transmitted to the ruggedized notebooks for real-time analysis and processing. At the same time, the ruggedized notebooks can be connected to the service terminals through wifi or 3G, and the conditions of the underground pipelines are transmitted back to the terminals for processing and preservation. Reinforced notebooks are used as data processing and display terminals to display and process underground pipeline data in real time, and the analysis data can also be printed out through a connected printer.
Fourth, the system block diagram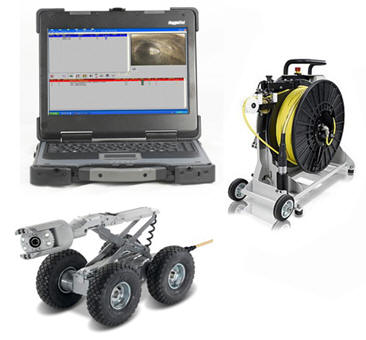 V. Product List
The underground pipeline inspection system can be equipped with one or more reinforcement notebooks along with the inspection vehicles and a number of overhauling equipment to collect underground data. The specifications of JNB-1406 are as follows:
processor

Intel® CoreTM i7-2610UE 1.5GHz (up to 2.4GHZ) / L2 4MB

chipset

Intel® HM65

RAM

Onboard 2GB DDR III memory, up to 10GB

Display screen

13.3 ' WXGA TFT Solar Visible LCD Screen with 1280x800 Resolution

storage

2.5 -inch SATA interface laptop hard drive, optional encryption / hard disk self-destruction function

IO interface

One VGA port

1 HDMI interface

One RJ-11 Modem Interface

2 RJ-45 network interfaces

One eSATA+USB2.0 interface

2 USB3.0 interfaces

One Mini1394B interface

2 RS-232 serial ports (internal adjustable in 232/422/485 mode)

One Line Out audio output connector

1 Mic-In audio input interface

Expansion card slot

1 Smart Card slot

One Express card slot

1 PCMCIA Type II slot

Multifunctional expansion interface

Optical drive can do the following expansion (five choices one) :

Expandable second battery

Two serial ports can be extended

Can expand the optical drive or the second hard disk module.

Scalable PCI-E X1 device

Extensible USB interface or USB function device

 

keyboard

Notebook special silicone keyboard, blue backlight, left and right touchpad mouse, optional plastic keyboard

Audio and video

High-definition audio processor

Built-in 2 speakers

Built-in microphone 1

 

communication

WLAN : 802.11a/g/n (with 3G alternatives)

LAN : 10/100/1000M

PAN : Bluetooth 2.0 Class I + EDR

WWAN : Support 3G (with wireless alternatives)

Satellite positioning: Select one of GPS and Beidou satellite navigation

Modem : 56kbps

 

safety

TCM1.2 security chip, optional TPM1.2

Administrator password, power on password

Smart card reader

Fingerprint recognition

Anti-theft pin hole

 

Power Adapter

AC power adapter : input AC110~240V , output DC19V@90W

DC power adapter : input DC9~32V , output DC19V

 

battery

7800mAH smart lithium battery, expandable second battery pack, capacity 3700mAH , dual battery pack battery life up to 9 hours

Cooling

Fanless design, heat dissipation through sealed metal chassis

Dimensions

46mm(H) × 328mm(W) × 272mm(D)

weight

About 4.2Kg

Environmental indicators

Operating temperature: -20 to 55 °C (battery power supply); -30 to 60 °C (adapter power supply)

Storage temperature: -40 to 70 °C

Humidity: 5% to 95% without condensation

Impact

Meets GJB367A-2001/GJB322A-98/GJB150A/MIL-STD-810G

Jobs : Half Sine wave, 15G, 11ms

Shutdown : Half Sine wave, 50G, 11ms

vibration

Satisfy GJB367A-2001/GJB322A-98 sinusoidal vibration test

Work: X/Y/Z triaxial, 5Hz-200Hz/1.0g ( 1.5g optional)

Shutdown: X / Y / Z triaxial acceleration 1.0G frequency of 10 ~ 23Hz

Frequency 23 ~ 52Hz amplitude 0.44mm

Frequency 52 ~ 2000Hz Acceleration 5G

Meet the GJB150A/MIL-STD-810G random vibration test

Work: X/Y/Z triaxial, 5-500Hz , 1.90 Grms

Shutdown: X/Y/Z triaxial, 20-2000Hz , 7.70 Grms

fall

Meets GJB367A-2001/GJB322A-98/GJB150A/MIL-STD-810G

4 feet (121cm) free fall

Protection level

Meets GJB367A-2001/GJB322A-98/GJB150A/MIL-STD-810G IP65

Electromagnetic Compatibility

Meets GJB-151A Army V/MIL-STD-461F testing requirements
VI. Advantages of EVOC products

 2nd Generation Intel® CoreTM i7 vProTM Processor
 Machine IP65 protection class
 LCD screen protection, hard disk five protection
Onboard 2G memory, maximum support 10G
 Reliable security features (fingerprint identification, TCM, etc.)
Meet the GJB150A, US military standard MIL-STD-810G environmental testing requirements
Seven conclusions
EVOC fully ruggedized laptops are solid and reliable, and they stand up to the test even in the harshest climate. Compared to other competitors, it is even better in terms of ruggedness, performance, display quality and battery life. The ability to adjust the screen and keyboard illumination with ambient light intensity, and the powerful networking capabilities designed for real-time data exchange make this device an ideal choice for underground pipeline operations.
True Wireless Bluetooth Earbuds
Truly Wireless Earbuds,Best Truly Wireless Earbuds,Best True Wireless Earbuds Under,Best True Wireless Earbuds Under 50
Dongguang Vowsound Electronics Co., Ltd. , https://www.vowsound.com